Surf Skate
---
All the best boards and parts dedicated to the concrete wave surfers. Here you will find complete surf skates (carver, yow, etc...) but also wheels, trucks and other parts. 
---
All the best boards and parts dedicated to the concrete wave surfers. Here you will find complete surf skates (carver, yow, etc...) but also wheels, trucks and other parts. 
Welcome to the SurfSkate category which brings together all the complete Surfskates as well as the accessories to mount your board: trucks, wheels, bearings and grips. If you need more information, check out our buying help guides or contact one of the OUTSIDE Skateshop sales associates
Trucks : the trucks are the metal axles on which the wheels are mounted, via bearings
Wheels: Skateboard wheels can greatly change the feeling on your board depending on their characteristics.
Bearings: the bearings are the parts that go up in the wheels and which ensure a good glide on the skate.
The SURF SKATE category brings together all the articles related to Surf-Skate, to start with a mounted board, or to create your custom-made board by buying in particular its trucks to be mounted on any board.
Surf Skating is a relatively young discipline that finds its origin in the invention of spring loaded trucks which offer new possibilities in terms of carving and surf-style. Thanks to the return offered by the spring, it is downright possible to "pump" like in surfing, to simply move forward without pushing or sending yourself big aggressive turns!
Historically, it was Carver who launched the discipline of surf-skate with his first models and a truck (C7) almost unchanged since. For surf-style enthusiasts, it's the most rigid system, the one that offers the most feedback to send big snaps.
Yow, who arrived a little later, is now a challenger in this market with a gigantic range that now includes more than thirty boards. Surf-skates with names of surf spots, of all sizes, of all colors.
Find our wide choice of complete surfskates and particularly the essential brands of the discipline: Carver and YOW.
Also discover the alternatives to Surfskates with articulated trucks with the Carver Triton, Landyachtz, Sector 9, Long Island or Globe boards and their trucks dedicated to carving.
All surf-skate accessories are available to modify your pads, buy very large screws or find spare parts for your Carver C7 or Yow Meraki trucks.
If you still have a doubt about the choice of your skateboard to make your purchase or if you want to see more material, you can come and visit us at the OUTSIDE store in Aix-en-Provence and benefit from the advice of our sellers!
For more information on choosing your surfskate before you buy, check out our surf skate buying guides.
BUY A SURF SKATE AT OUTSIDE SKATESHOP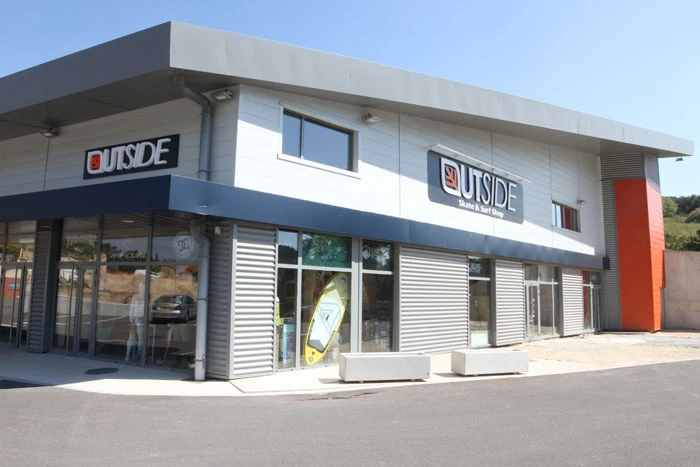 OUTSIDE SKATESHOP - Le Magasin
The OUTSIDE Skateshop store is located 5 minutes from downtown Aix-en-Provence and 30km from Marseille.
If you're in the area, why not drop by and say hello!
Come and discover one of the biggest skateshops in Europe and hundreds of references from the biggest brands: Santa Cruz, Vans, Creature, Globe, Blind, Almost, Enjoi, Girl, Chocolate, Toy Machine, etc.
Need help choosing your skateboard or longboard deck? Do you prefer to try your protections or your helmet before buying? Do you like to see the material before making a purchase on the internet? Your wheel makes a funny noise but you lack tools?
We are waiting for you !