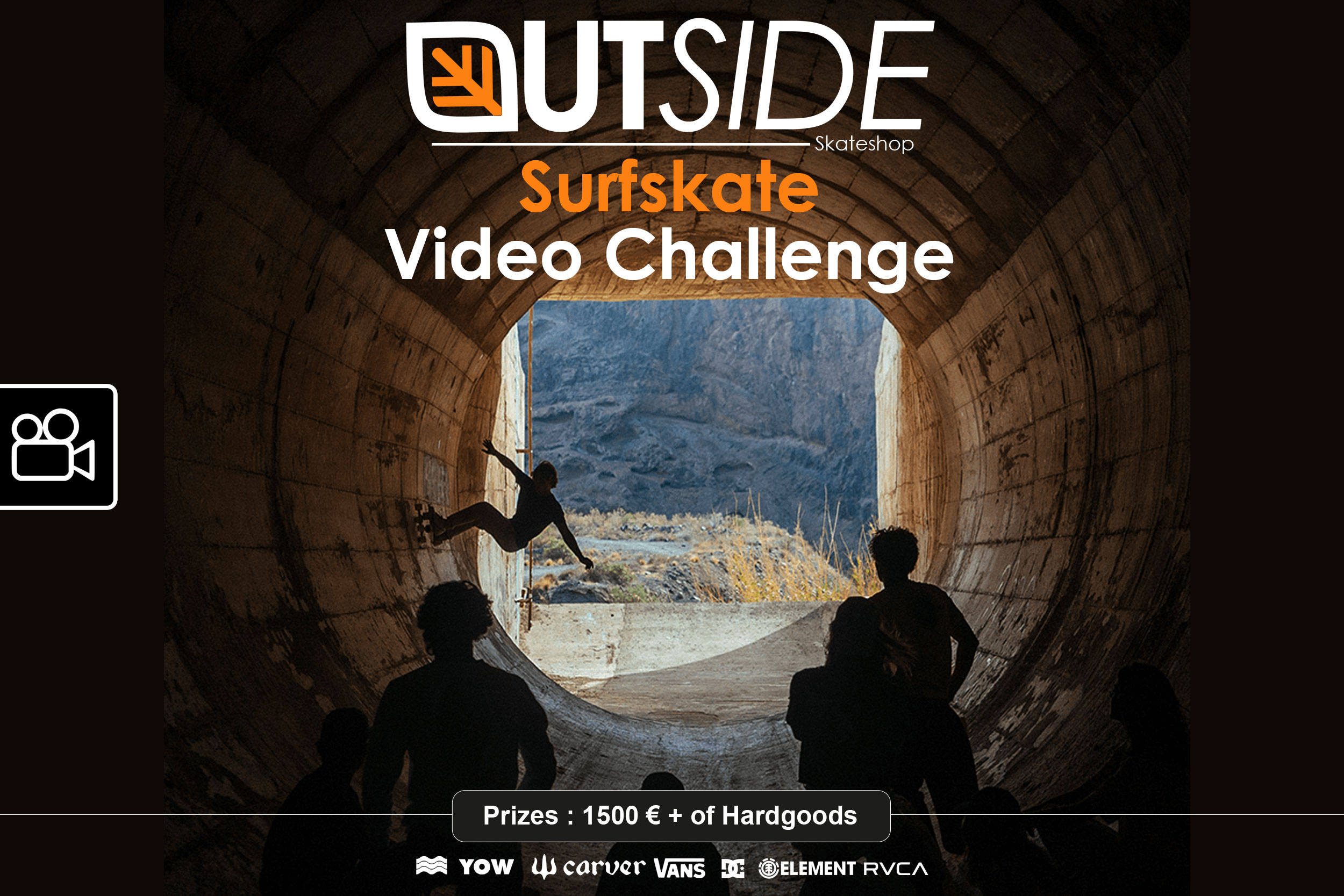 At Outside Skateshop, the surfskates are considered as real gods and the discipline of concrete wave surfing is a religion. We are thousands to practice surfskating all around Europe on all the possible and imaginable grounds.
So we had the idea to launch a video contest that will allow each rider to show what he does with his surfskate board. From hardcore surf moves to cruising on country roads, this surfskate contest is open to all riders from the following countries :
Spain, Portugal, France, Belgium, Italy, UK, Ireland, Holland, Germany, Switzerland, Austria, Luxembourg.
The rules are as follows:
- You shoot a 1min max video using a surfskate, the content is 100% free (Ideally, exclusive content, never published before).
- Only one rule, make us dreaming ! All surfskating disciplines are approved : surf moves, tricks in park, cruising / carving, pump track, etc...
- As soon as your video is finalized, you transmit it to us using Wetransfer and registering the email address contact@outside-shop.com. To follow the contest, subscribe to the Instagram page @outside.skateshop and the youtube channel . The deadline to send us your video is May the 22st, 2022.
-> To confirm your participation, please also send us the following info by email at contact@outside-shop.com : First Name, Last Name, City where you live, Spots where you practise, Board(s) you use, 1 or 2 sentences to introduce yourself, Your Instagram and/or Youtube account.
- All videos will be published on our Youtube channel on Wednesday May the 25th, then a focus will be made on each video with a post / Story on our Instagram account. From then on, don't hesitate to share the link of your video to make it known to as many people as possible!
- The ranking will be established on the 27th of June 2022 according to the number of Youtube + Instagram views (No cheating on the views please, we will make several checks)
- Each skater has only one participation, thus only one video.
-> The announcement of the winners will take place on 29th of June 2022

-> The prizes to be won are the following and will be chosen among the models in stock at Outside :
1. The winner wins the surfskate Yow of his choice and a pair of DC shoes of his choice!
2. A Carver Surfskate of your choice
3. A Surfskate Yow of your choice
4. A Triton Surfskate of your choice
5. A pair of DC shoes of your choice
6. A pair of DC shoes of your choice
7. A pair of shoes Vans of your choice
8. A set of wheels Blood Orange of your choice
9. A Sweat Element of your choice
10. One RVCA item of your choice
11. A cap of your choice
12. A pair of socks in the choice
13. to 20. Goodies selected by Outside Team
The prizes will be delivered to the address of your choice (in the countries listed on top of this article)
Good luck to all !!!