Low Shoes
---
Welcome to the Low-top shoes category. All our low-top skate shoes, the most popular among skateboarders. Lightweight models to be as close as possible to your board and enjoy maximum freedom of movement. Low-top skate shoes are also the easiest shoes to wear every day. [En savoir plus]
---
Welcome to the Low-top shoes category. All our low-top skate shoes, the most popular among skateboarders. Lightweight models to be as close as possible to your board and enjoy maximum freedom of movement. Low-top skate shoes are also the easiest shoes to wear every day. [En savoir plus]
Welcome to the Low shoes category which brings together all the low-top sneakers from the biggest skate brands: VANS, GLOBE, ETNIES, DC SHOES. If you need more information, contact one of the OUTSIDE Skateshop sellers
Socks : for skateboarding, longboarding or just to chill out. The perfect present !
Shoe Goo : every skater know Shoe Goo, the paste Glu to fix and protect skate shoes
Shoes Slip-On : very appreciated by skaters for their board feel.
Shoes Mid et High : best to maintain ankle while skateboarding or longboarding. Better protection agasint cold
The LOW SHOES category brings together all the Low-Top skate shoes from the VANS, DC SHOES, ETNIES or GLOBE brands.
Low shoes are the most widespread and popular shoes for skateboarding and longboarding.
The ideal compromise between style and technique, Low skate shoes are also the ones that generally offer you the most board feel, that is to say the ones with which you feel your skate best under your feet.
The most famous Low Skate Shoes models are legendary like the VANS Era and Old Skool or the DC SHOES Kalis or GLOBE Saber.
Beyond the practice of skateboarding, low shoes are the most versatile for everyday dressing and the most versatile to be worn in all seasons.
If you still have doubts about the choice of your skate shoes to make your purchase or you want to see more material, you can come and visit us at the OUTSIDE store in Aix-en-Provence and benefit from the advice of our salespeople. !
BUY SKATE SHOES AT OUTSIDE SKATESHOP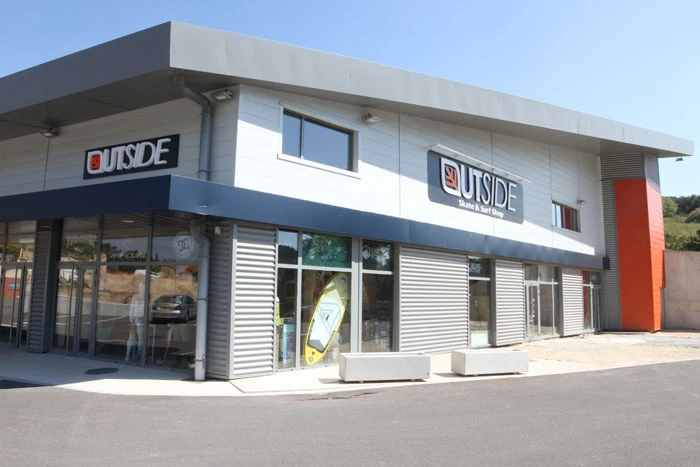 OUTSIDE SKATESHOP - The Store
The OUTSIDE Skateshop store is located 5 minutes from downtown Aix-en-Provence and 30km from Marseille.
If you're in the area, why not drop by and say hello!
Come and discover one of the biggest skateshops in Europe and hundreds of references from the biggest brands: Etnies, Sector 9, Landyachtz, Globe, Carver, VANS, Slide, etc.
Need help choosing your skate shoes? Do you prefer to try your protections or your helmet before buying? Do you like to see the material before making a purchase on the internet? Your wheel makes a funny noise but you lack tools?
We are waiting for you !