Shoes
---
Welcome to the Skate Shoes category. All our shoes for skater or to adopt the purest style Skate. Mythical skate shoes and sneakers from VANS, DC SHOES, ETNIES or GLOBE. [En savoir plus]
---
Welcome to the Skate Shoes category. All our shoes for skater or to adopt the purest style Skate. Mythical skate shoes and sneakers from VANS, DC SHOES, ETNIES or GLOBE. [En savoir plus]
Welcome to the Skate Shoes category which brings together all the skate shoes from the biggest brands: Vans, Globe, DC Shoes, Emerica, Etnies, Lakai. If you need more information, check out our buying help guides or contact one of the OUTSIDE Skateshop skater.
Low-top shoes: the classics, reinforced or not, which offer a good feeling of the board
Slip-On: a mythical model in skateboarding, the Slip-On, without laces, very light, and closer to the board
High-top shoes: with better ankle support for skateboarding and warmer for winter
Slaps and flip flops: for the beach! or not ! Summer must-haves
The SKATE SHOES category brings together all the skate shoes of the biggest brands: Vans, DC Shoes, Globe, Enies, Emerica, Lakai.
Solid models dedicated to skateboarding with reinforcements and special impact soles as well as streetwear shoes for going out and for style!
The shoes of skate culture include some of the most cult models on the planet such as the VANS Old Skool or Era. Shoes dedicated to skateboarding and developed with the best skaters!
For women, there are unique models developed for these ladies and available in small sizes.
There are even some for children with some of the legendary models from brands like VANS or GLOBE available in very small sizes for Kids and sometimes for babies.
If you still have a doubt about the choice of your skate shoes to make your purchase or you want to see more material, you can come and visit us at the OUTSIDE store in Aix-en-Provence and benefit from the advice of our sellers!
For more information on choosing your shoes before buying them, check out our shoe buying guides.
BUY SKATE SHOES AT OUTSIDE SKATESHOP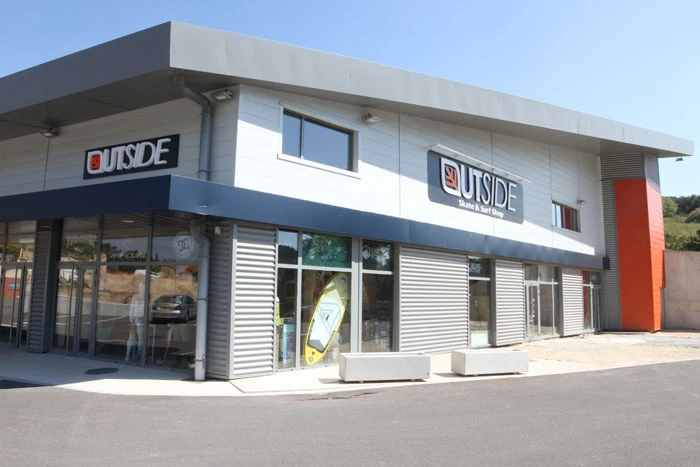 OUTSIDE SKATESHOP - The Store
The OUTSIDE Skateshop store is located 5 minutes from downtown Aix-en-Provence and 30km from Marseille.
If you're in the area, why not drop by and say hello!
Come and discover one of the biggest skateshops in Europe and hundreds of references from the biggest brands: Santa Cruz, Vans, Creature, Globe, Blind, Almost, Enjoi, Girl, Chocolate, Toy Machine, etc.
Need help choosing your skateboard or longboard deck? Do you prefer to try your protections or your helmet before buying? Do you like to see the material before making a purchase on the internet? Your wheel makes a funny noise but you lack tools?
We are waiting for you !