Surfskate. LONG ISLAND launches a new range of surfskates equipped with a brand new truck: the LEAN Genesis Truck. Let's see what it's all about.

Lean Genesis : Birth of a new Surfskate truck
Usually present in the entry-level longboard and cruiser sector, the LONG ISLAND brand innovates and launches a real series of articulated truck Surfskates. These boards complete an existing range of Surfskates fitted with a "CX type" truck already available last season.
For the occasion, LONG ISLAND has developed a new articulated truck, the LEAN Truck. Building on its experience with YOW, the Spanish brand (from the same workshops) has tried to reconcile performance and budget to release a series of boards at 220€.
Let's see in detail what the new LEAN Genesis truck has in store for us.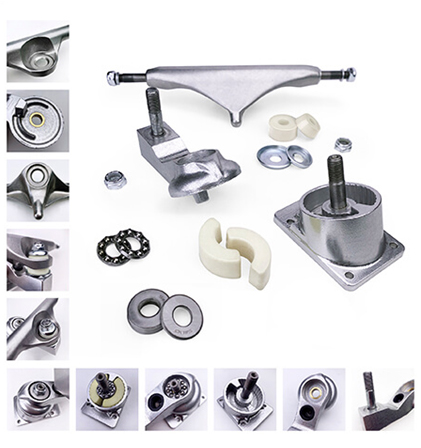 LONG ISLAND Lean Genesis : Half moon Bushings
If you think about it, it's quite complicated to create a surfskate truck that offers both enough stability not to be deadly, and a radical turning angle to be able to appeal to Surf-style enthusiasts.
Compared to the YOW Meraki truck, the particularity of this new LEAN Truck is that it does not work with a spring. Indeed, LONG ISLAND has chosen to use half-moon rubbers to articulate its truck. A system reminiscent of GLOBE's Revenge Alpha but which nevertheless works a bit differently.
In fact, the high rebound rubbers are blocked in a cage in which is inserted the pivoting upper part of the truck which will "force" on one rubber, then the other each time you carve.If on test the return is less pronounced than a spring truck, we can assume that the solidity over the long term will be improved since spring breakage is the main problem of other brands (on the long term too).
The other particularity of the LEAN Genesis Truck is that it is designed to be very light. And it is successful!
The LONG ISLAND truck significantly saves weight compared to the CARVER or YOW trucks and becomes a wise choice for mounting a board that is easy to transport and above all efficient for doing tricks.
Good level Surfskate enthusiasts who have fun in the Skatepark or in the Pool will find there a sizeable ally for freestyle sessions.For nomadic skaters, the LONG ISLAND Surfskates are on the whole more pleasant to carry around with you.
LEAN Genesis Truck : Test
After several tests, the overall feeling is that this new range of Surfskates is frankly successful, and this success is due to the new truck system.
The boards are light, easy to handle, responsive and very efficient in Carving. It's stable and surprisingly efficient in reverse. No problem making big aggressive turns and slides.
With a slightly more horizontal movement of the truck, the LONG ISLAND Surfskates are a little less close to the sensations of Surfing. On this point, YOW boards remain the top of what is done.
Other than that, these are great boards to do a little bit of everything and to afford a Surf-style / Park / Bowl combo.
For this price, the contract is fulfilled hands down.