Landyachtz longboards, cruisers and surfskates return to the skateshop this week. A wide range, very complete, which we summarize here:
Longboards and cruisers Landyachtz
Present for several years at the skateshop, the Landyachtz longboards and cruisers are among our little favourites! We really like the range released in 2019 and renewed today with a few new features.
Overall, the Landyachtz family of boards is super coherent, frankly successful in terms of design. Everything is fitted as standard with quality accessories (BEAR trucks, HAWGS wheels) for a far from unreasonable price. Faultless for the Vancouver brand.
This is the great strength of this Landyachtz range: the complementarity between the boards. We find all the shapes for all types of use. Cruiser beginners, pumptrack addicts, dancing enthusiasts or speed buffs: there is something for everyone.
But not anyhow! Because Landyachtz offers well finished boards with a high technological level, we greatly appreciate its boards which are not reserved for beginners only.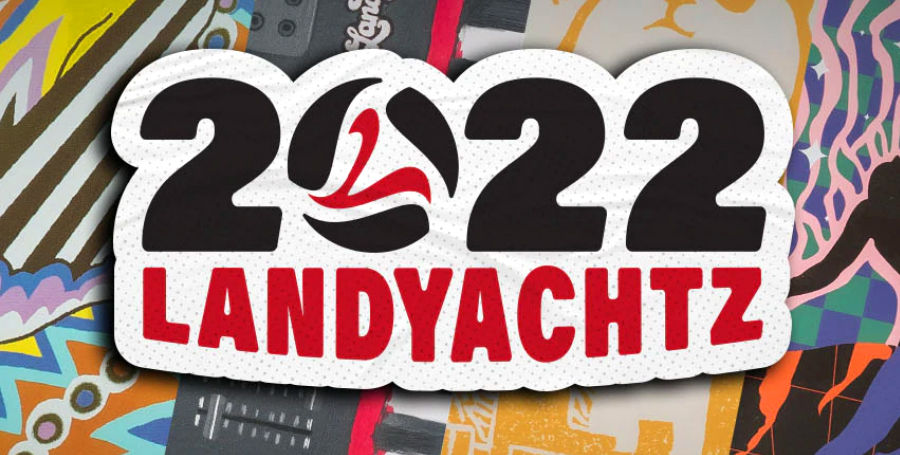 Landyachtz 2022 : Close Up
Landyachtz Dinghy: The small cruiser skate model, in 28.5", with kicktail and therefore very manoeuvrable. Available in many designs. Suitable for sliding. The super handy "skate type" board for the city, equipped with wheels 63mm wide to evolve in hostile terrain
Landyachtz Tugboat: An enlarged version of the Dinghy, in 30", with Polar Bear 130mm trucks (compared to 105mm for the Dinghy) for more stability. The utility for getting around on a daily basis, especially for tall adults.
Landyachtz ATV: An Old School street shape with a nose and a tail, all in sizes over 9". For commuting, and also for street skaters who want a hybrid board (Polar Bear 155mm trucks + 60mm Hawgs ).
Landyachtz Pocket Knife: A super fun little surfskate (29.6"), with an inverted Banger RKP truck (Carver CX type). A very playful board, for pumping around or for pumptrack. The Black version has a soft grip, super comfortable!
Landyachtz Surf Life: The shape of the Ditch Life series, retro boards inspired by the 80s, but mounted with the Surfskate Banger truck. We add the special Hawgs surfskate wheels in 65mm as well as the "soft-top" grip for maximum comfort.
Landyachtz Butter: The surfskate in 31.2", the most versatile size for adult sizes, with The full range: 65mm Hawgs, Banger truck, Soft Grip. Our favorite pumptrack model.
Landyachtz Super Chief: The Super Chief is a fairly short Pintail (36"), with narrow trucks that make it a super responsive and playful little cruising board. To move around... without getting bored! A little unstable for the large sizes.
Landyachtz Ripper: A hybrid Pintail with a kicktail, to gain maneuverability. A banana 36.9" deck, but quite flex. A great longboard for carving with room for the feet. The right board for a smooth start.
Landyachtz Battle Axe: In line with the Globe Prowlers, the Battle Ax is a Pintail hybrid, in drop-Through, quite low. Versatile, it is suitable for starting to pick up speed and slide.
Landyachtz Drop Cat: A pure Landyachtz product! Available in 33 and 38", the Drop Cat is a must-have for the brand. With a banana, wide, concave and Mid-Flex deck, this do-it-all drop-through longboard offers maximum foot room. A great board , for walking, carving and speed / sliding.
Landyachtz Drop Hammer: Shorter than a Drop Cat or a Battle Ax 38", the Drop Hammer is also more playful. To start, get down to business, carve, and get into Freeride. For the city, the Drop Hammer is also more maneuverable than its big sisters.
Landyachtz Tony Danza: A flex and not too long (39.9") Dancing and Freestyle longboard, for smaller builds or for a more Freestyle program than Dancing, in order to facilitate flip tricks.
Landyachtz Stratus: The real Landyachtz Dancing board: long (46"), with room to walk around. A non-seize deck in the middle for finger tricks, with double kicktails for Freestyle tricks. One of the best compromise to start the discipline.
Landyachtz EVO: A Downhill Classic, with its extremely pronounced tilting directional deck and wheels with wide patch contact. Guaranteed high speed stability. A weighty ally in the Km/h race.
Landyachtz Switchblade: A dropped and wide deck that offers a lot of comfort. The Switchblade will suit those who want to downhill for real, but also want to get around on a daily basis with an easy to ride board. The concave deck widened at the level of the feet facilitates the control in Freeride.