Clothing
---
Welcome to the Clothing category. All the skate wear from the biggest brands: Vans, Dickies, Thrasher, Santa Cruz, RVCA, DC Shoes, Rip'N'Dip, Jacker or Rip Curl. Find all the classics of skate culture. T-shirts, Hoodies, Jackets, Pants, Socks, etc. [En savoir plus]
---
Welcome to the Clothing category. All the skate wear from the biggest brands: Vans, Dickies, Thrasher, Santa Cruz, RVCA, DC Shoes, Rip'N'Dip, Jacker or Rip Curl. Find all the classics of skate culture. T-shirts, Hoodies, Jackets, Pants, Socks, etc. [En savoir plus]
Welcome to the Clothing category which brings together streetwear from the biggest skate brands: Vans, Santa Cruz, Thrasher, DC Shoes, Dickies, Rip'N'Dip, Stance, HUF, Levi's Skateboarding, Element, Primitive, Salty Crew. If you need more information, check out our buying help guides or contact one of the OUTSIDE Skateshop sales associates
T-shirts: the essential. From the most stylish to the most sober, t-shirts from the biggest skateboarding brands.
Pants: for skateboarding or for style. Reinforced or super comfortable pants, for all uses
Women's T-Shirts: These ladies also have a large skatewear section full of style
Socks: very useful for skating, comfort socks are also an excellent gift that is always a pleasure
The CLOTHING category brings together all streetwear items for men, women and children, as well as accessories.
Find a wide range of the biggest brands: VANS, Thrasher, Santa Cruz, DC Shoes, Dickies, Element, RipNDip, HUF, Stance, Jacker, Primitive, Pizza, Rip Curl, Champion, Levi's Skateboarding, STANCE, Salty Crew.
From the essential t-shirt, to the no less mythical "Hoodie", through pants dedicated to skateboarding or high socks from essential brands. Don't forget to think about accessories with belts, caps, bucket hats, sunglasses or backpacks.
To start, we focus on the essentials, the legendary THRASHER Hoodies or VANS Classic T-shirts, present in the range for centuries and still as effective as ever.
We continue with pure skate pants at DICKIES or NNSNS (Nonsense) for street sessions. By the way, we go to CHAMPION for its ultra-comfortable jogging after the session. For fun, you can equip yourself with a RIP'N'DIP long-sleeved t-shirt, to color the world.
Precisely for comfort, we make an obligatory stop at the sock department to put a pair of STANCE or SANTA CRUZ aside.
We finish off in style by covering everything with a cap or a hat (depending on the season) and a little jacket so as not to be cold in winter (or boardshorts for summer swimming)!
If you still have a doubt about the choice of your clothes or accessories to make your purchase or if you want to see more equipment, you can come and visit us at the OUTSIDE store in Aix-en-Provence and benefit from the advice of our sellers!
For more information on choosing your wearable accessories before buying them, consult our clothing buying guides.
BUY SKATE CLOTHING AT OUTSIDE SKATESHOP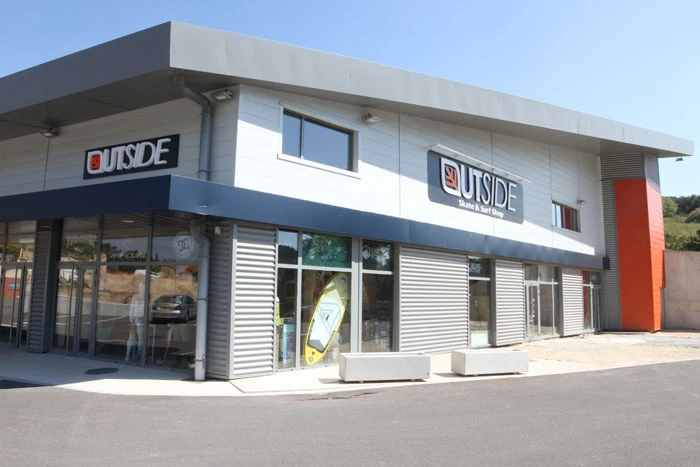 OUTSIDE SKATESHOP - The Store
The OUTSIDE Skateshop store is located 5 minutes from downtown Aix-en-Provence and 30km from Marseille.
If you're in the area, why not drop by and say hello!
Come and discover one of the biggest skateshops in Europe and hundreds of references from the biggest brands: Santa Cruz, Vans, Creature, Globe, Blind, Almost, Enjoi, Girl, Chocolate, Toy Machine, etc.
Need help choosing your skateboard or longboard deck? Do you prefer to try your protections or your helmet before buying? Do you like to see the material before making a purchase on the internet? Your wheel makes a funny noise but you lack tools?
We are waiting for you !